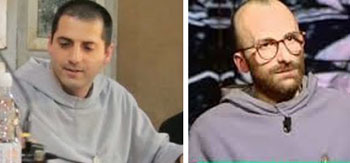 Frati Francescani dell'Immacolata devono sostenere una menzogna per offrire Messa Tridentino.Mentre le Fraternità San Pio X anche bisogna dire la menzogna per ottenere lo status canonico.
Entrambi hanno a interpretare il Concilio Vaticano II, con casi ipotetici come non sono ipotetici.Bisogna affermare che questi ipotetici riferimenti, sono espliciti e oggettivamente visibile.Entrambi hanno concludere che questi 'casi espliciti' sono eccezioni alla ecclesiologia tradizionale.E eccezione per il dogma extra ecclesiam nulla salus, il Sillabo e Tradizione in genere.
La Fraternità Sacerdotale San Pietro (FSSP) e Istituto di Cristo Re Sommo Sacerdote
, le comunità tradizionaliste, hanno compromesso.Loro affermato la bugia.Loro interpretare il Concilio Vaticano II, con una irrationalita.
Quindi loro sono e
autorizzati a offrire la Messa Latino Tridentine.
Gli Slaves of the Immaculate Heart of Mary, tradizionalisti, interpretano anche il Concilio Vaticano II con la menzogna.Sono autorizzati ad avere la Messa tradizionale presso le loro sedi nelle diocesi di Worcester e Manchester, USA.
I Frati Francescani di Immaculata , hanno avuto il loro seminario tolto.Loro non sono autorizzati a offrire il Messa Tridentine.Loro hanno stati chiamati 'crypto lefebvriani'.
L'altro gruppo di Francescani dell'Immacolata che offrono la Messa in lingua italiana e non offrono la Tridentine Messa sono approvati dal Papa Francesco.Loro hanno la approvazione della Curia Vaticano da quando loro sono
interpretano il Concilio Vaticano II, con la menzogna.
Anche Arcivescovo Guido Pozzo e il resto della Congregazione per la Dottrina della Fede (CDF) interpretato il Concilio Vaticano II con questa menzogna.
Il mese prossimo, quando i colloqui riprendono con la Fraternità San Pio X, il mondo intero vederlo.Tanti vorranno vedere se la Fraternità San Pio X accetta il Concilio Vaticano II, con la menzogna o tollerano la menzogna, nella Curia vaticana, in cambio di approvazione canonica.
Io accetto il Concilio Vaticano II senza la menzogna.
Ho scelto la opzione.Sono razionale e in accordo con la vecchia ecclesiologia della Tradizione. I Francescani dell'Immacolata e la Fraternità di San Pio X potrebbe fare la stessa cosa.Tutti le comunità religiose possono fare lo stesso.
Io evito la menzogna.
Vescovo Bernard Fellay e l'arcivescovo Guido Pozzo potrebbero fare lo stesso.
Tutti i docenti cattolici possono insegnare questa.Può seguire il mio esempio nelle università e nei seminari.
Loro bisogna semplicemente evitano la menzogna nell'interpretazione del Concilio Vaticano II e Concilio Vaticano cambiata.
Da essere non tradizionale si trasforma in essere tradizionale.
Loro semplicemente evitare la Nuova Teologia, che e basa sulla menzogna e la vecchia teologia emerge nel testo del Concilio Vaticano II.
I cattolici non sanno questo.
Di facolta di ex- Fischer More Collegio, USA non sapeva questa.Loro presume che La Messa Tradizionale e il punto chiave per la crisi in la Chiesa.Loro non sapevano che il problema principale era ecclesiologia.Ecclesiologia determinare come la Santa Messa e stato offerto - con o senza la menzogna.
Allo stesso modo per il blogger Don John Zuhlsdorf, la liturgia è il problema principale.Lui
interpreta il Concilio Vaticano II come una rottura con il dogma extra ecclesiam nulla salus (EENS) durante la Santa Mass.Lui non può affermare EENS.Lui interpreta EENS con eccezioni; con la bugia.
Come sacerdoti, in genere, Padre Zuhlsdorf bisogna accettare e affermare una bugia in teologia, per mantenere la vocazione di sacerdotale.
Io sono frequento Messa Latino Tradizionale e la Messa in Italiano e Inglese.Io non dire casi ipotetici, sono espliciti nella vita reale. Don Zuhlsdorf, non può dire questo sul suo blog.
Io sono non può vedere un caso di battesimo di desiderio nel Roma.
Don Zuhlsdorf
deve assumere che tutti possono vedere questi fantasmi.Questo e importante per incardinazione, per approvazione canonica.
Così ecclesiologia per me, un laico, è ancora la stessa di quella dei missionarie di 16° secolo.Sono frequento la Messa Latino Tradizionale, la Messa del Novus Ordo, bizantino greco o il Messa Siro Malabar
con la stessa ecclesiologia
.
-Lionel Andrades
Franciscan Friars of the Immaculate have to support a lie to offer the Traditional Latin Mass while the SSPX have also to maintain the lie to get canonical status
http://eucharistandmission.blogspot.it/2016/08/franciscan-friars-of-immaculate-fi-have.html